Thursday, June 20, 2002 (Day 1)

8 :00 A.M.: A beaming sun awaits Andre at Pro Gym Serge Moreau in Montreal, Quebec -corner Hochelaga and Bennett for the official takeoff. His loved one and friends are there to wish him well in the realisation of his life-long dream. In that little laps of time, Andre is shaken by an entire array of emotions. Then, it's takeoff, from now on there's no looking back, Andre knows he must concentrate on the road ahead if he's to make it back home on time.

Always on the 138, North-Shore of the St-Lawrence, and heading for Quebec City, Andre passes Three-Rivers at 2:15 P.M. and arrives at his first campground in Newville in the outskirts of Quebec at 7 :00 P.M. There, he spends the night. His odometer indicates a brand new 232 km.


Friday, June 21 (Day 2)

Early to rise, our cyclist takes on the Quebec Bridge before grabbing some breakfast and heading for route 132. Aside from the 30-minute torrential downpour, the temperature turns out to be pretty decent. Some 261 km later, he heads for St-Antonin on route 185 (some 20 km east of Riviere-du-Loup) where he settles for the night.


Saturday, June 22 (Day 3)

Although the day is filled with hills and head winds, our cyclist still manages 218 km. Taking a well-deserved break at Perth-Andover NB. The campground is wonderful and so are the peoples.


Sunday, June 23 (Day 4)

Still more hills ahead and three flat tires. Nevertheless, a good 190km is reached on a magnificent road. With a downpour in the horizon, Andre welcomes a motel in Fredericton NB where a hot bath and some shuteye are indispensable.


Monday, June 24 (Day 5)

Today Andre covers 219 km from Fredericton to Sackville NB near Nova-Scotia. With a pit stop in Moncton, he purchases six inner tubes. More rain on the way, a motel is a must!


Tuesday, June 25 (Day 6)

A superb road and 237 km later, Andre reaches Antigonish (N.S.) via route 104. Finally, a pleasant night's sleep in a campground that's fit for a king.


Wednesday, June 26 (Day 7)

Andre awakes to a magnificent day and covers 201 km. He reaches Sidney North at 5:30 P.M. At 11:30 P.M. he takes the ferry over to Port-aux-Basques (Newfoundland). Hoping to gain a day, our traveler allows himself a nap on the ferry. There are only four days left to make it to the airport on time.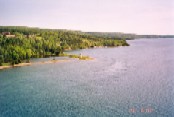 Little Bras D'Or, NE
Thursday, June 27 (Day 8)

The first landing post indicates 905km to St-John, Newfoundland. The place is covered with mountains such as those found in Eastern Township. It's cloudy and quite nippy, with snow-covered mountaintops in the horizon. With an afternoon of downpour and 226 km later, Andre reaches Corner Brook Nfld. It's now time for yet-another well-deserved rest. The total mileage so far is 1784 km in just over 8 days.


Friday, June 28 (Day 9)

Catching up on lost time, Andre covers 265 km today reaching Grand Falls Windsor NFld. The temperature is rather cool but mild. Only 414 km separate him from the airport!


Saturday, June 29 (Day 10)

Overcast skies and cold drizzle awaits Andre today, but he manages yet another 218km to Port Blanford, NFld. The night is spent in a fine motel after having dried off the tent and the rest of the equipment.


Sunday, June 30 (Day 11)

Although the morning starts off overcast, the rain lets up in late afternoon. Getting ever so close to St-John now, our cyclist locates a dainty cabin near a splendid lake where he proudly settles for the night, knowing another 231 km are behind him, adding up to 2498 km in 11 days.


Monday, July 1st (Day off)

Canada Day, Andre has a quick look around St-John, Newfoundland and makes his way to the airport at around 11:00 A.M. Departure time to Vancouver, BC is 4:15 P.M. with a transfer in Toronto at 8:25 P.M. and an estimated time of arrival in Vancouver at 10:45 P.M. After such a late arrival at the airport, Andre decides the airport is as good a place as any for some shuteye. Today marks Andre and Diane's get-together anniversary. Five years already - congratulations to both of them!


Tuesday, July 2 (Day off)

What a weird feeling; Andre leaves the airport with his bike. He makes it to Horseshoe Bay Marina and hops on the ferry to Nanaimo - Vancouver Island. On board, he makes an American acquaintance and visits the area. After a brief 80 km, he opts for a scenic Provincial campground near the ocean in Rathtrevor Beach, BC for a rest.


Wednesday, July 3 (Day off)

He leaves Nanaimo and heads for Port Alberni on Vancouver Island, BC. On his way, he visits Cathedral Cove, the famous giant trees of BC. Wow, its 16 degrees Celsius during the day while we have 32 in Montreal at 11 :00 P.M. What a lucky guy! People he meets are all nice and new friendships are created.


Thursday, July 4 (Day off)

The visit continues on the Southwest side of Vancouver Island. He makes his way to Sooke and then returns to the suburbs of BC. Camping is fantastic and the temperature is very pleasant. Andre is now the furthest away from home. The campground will be a good spot for a snooze.


Friday, July 5 (Day off)

Time to head back. Andre visits Victoria, takes the ferry to Swart Bay and crosses over to Vancouver. Once he's located the bike shop, it's time to replace brake pads before tacking the Rockies. He finds a cosy motel on the outskirts of Vancouver and spends his last night on the West Coast. Tomorrow marks the beginning of the second half of his cross-country adventure.


Saturday, July 6 (Day 12)

Nice fresh temperature for the last days in the Rockies. Our cyclist makes it to Hope, BC. The road is grand and the abounding sceneries are all equally beautiful. At 4:00 P.M., having covered 132 km in the Rockies and realising that the next campground is too high in the mountains, he decides to stick closer to Fraser River. Camping is excellent!

Rivière Fraser, CB
Sunday, July 7 (Day 13)

Heading for Hope-Merritt via the Coquihalla highway, it looks like it's a tough day ahead! In fact, at an altitude of 1765 meters, it's the highest road in Canada. A good provision is a must since 129 km will be covered with nothing in sight but landscape. Although the giant mountains are a challenge - one of them being a steep 55-minute uphill - things work out pretty well - Ouf!


Monday, July 8 (Day 14)

Andre is now into his third day in the Rockies. Today, he manages 213 km and makes it to Salmon-Arm - covering a little over half the distance of BC.


Tuesday, July 9 (Day 15)

Up in Glacier Village, Andre encounters a black bear – lucky for him the bear does not move. Our cyclist is now right smack in the heart of the Rockies. He's covered 175 km in one day and witnesses the very top of mountains - areas where snow never melts.


Wednesday, July 10 (Day 16)

Having reached Lac Louise, near BC and Alberta frontiers, Andre sleeps in special campground today. One that is fenced in with electrical wires to keep the bears out. At temperatures of 35 Celsius, he's managed to cover yet another 172 km.


Thursday, July 11 (Day 17)

It's a memorable day. The weather is terrific and breath-taking panoramic views abound. Reaching into Alberta, he crosses a time zone – only two hours time difference with Montreal. He comes across mountain goats and moose. Some 225 km later he reaches Calgary, AB.


Friday, July 12 (Day 18)

In Medicine Hat it's unbearably hot, temperatures reach excruciating 42 Celsius plus humidex. According to meteorologists, Medecine Hat is the warmest city in Canada. One wonders how he's managed to cover 228 km in such an inferno. Tomorrow's forecast looks cooler… only 37 degrees. He heads for Saskatchewan.


Saturday, July 13 (Day 19)

Hoping to enjoy the coolness of the morning, Andre is early to rise. But he's slowed down after breakfast when he realizes his back tire won't make it. The only bike shop around is closed until 11:00 A.M. on Saturdays. That means he won't be back on track before after lunch. The temperature is on the rise but he manages 116 km and makes it to Maple Creek, SA. He finds a camp group near a tourist information booth and meets a couple of cyclists from Quebec by the names of Real and Guylaine.


Sunday, July 14 (Day 20)

He heads out so early that it's still dark outside this morning. A smooth wind blows softly in his back, wow! Andre covers 310 km in 36 Celsius and makes it to Moose Jaw, SA. – yet another personal record set! He figures he'll be back home in two weeks.


Monday, July 15 (Day 21)

Another beautiful day awaits our cyclist. Although the road leaves a lot to be desired, Andre makes it to Whitewood, SA near the Manitoba border while covering 259 km.


Tuesday, July 16 (Day 22)

Today he'll cover 198 km and make his way to the deserted town of Brandon, MA. It's an area where convenience stores are few and far apart - 80 km apart to be exact!


Wednesday, July 17 (Day 23)

It's accompanied by a superb sun and some 36 degrees that Andre heads to Winnipeg, MA. His odometer indicates 233 km for the day. The Manitoba road is nothing to write home about, not even a shoulder to bike on. The cyclists are left with only the white line on the road and that even seems to be a bonus sometimes.


Thursday, July 18 (Day 24)

It's with strong persistent head winds lasting an entire day that Andre covers 205 km making his way to Lake-on-the-Wood, Kenora, ON.


Friday, July 19 (Day 25)

Still more head winds accompanied by Laurentien-type hills. Nevertheless, he covers 253 km and succeeds in making it to Ignace, ON. Highway 17 is just as dangerous in Ontario as in Manitoba. The pavement is pathetic and there is no shoulder whatsoever.


Saturday, July 20 (Day 26)

Our cyclist crosses yet another time zone. The time difference with Montreal is only 1 hour now. Even with head winds, he reaches Kakabeka Falls in the suburbs of Thunder Bay, Ontario. His odometer totals 223 km for the day. The North of Lake Superior's panoramic view is splendid.


Sunday, July 21 (Day 27)

Andre wants to make it to Thunder Bay to spend the night but there are no vacancies because there's a major activity going on. Furthermore, everything here is expensive. After a long 211 km, he's offered a spot and sets up tent on an Indian reserve called Pays Plat. He's now reached Rossport, ON., some 25 km east of Thunder Bay.


Monday, July 22 (Day 28)

It's a cool 10 Celsius in White River, ON., while not far away in Montreal the thermometer reads a hot humid 32 - again no campground or motels to be found. It's the construction weekend here too. Finally the tourist centre allows him to set up camp on its ground. Today he's covered 217 km in the mountains with 80 km distance between service areas (no convenience stores or anything).


Tuesday, July 23 (Day 29)

Despite head winds and hills our cyclist puts another 195 km and two tires behind him, making it to Agawa Bay and discovering a nice campground on the panoramic shores of Lac Superior.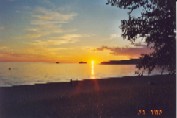 Agawa Bay, Lac Supérieur, ON
Wednesday, July 24 (Day 30)

A 13 km uphill makes today the toughest day of all. With the help of motorists honking their horns to cheer him on, Andre covers 202 km and reaches Bruce River, ON. near Sault-Ste-Marie.


Thursday, 25 July (Day 31)

The head winds no longer intimidate him. The closer Andre gets to the finish line the more encouraged and energized he becomes. He makes his way to Sudbury where, before going to sleep, he calls his beloved and expresses his eagerness to get back home. His odometer indicates 230 km for the day.


Friday, 26 July (Day 32)

Andre crosses Sudbury very early and stops for breakfast. It's raining cats and dogs and visibility is drastically reduced. He's forced to stop. After a three-hour stop over at Tim Horton, he makes it to Ruthenglen, ON. - a rough 35 km West of North Bay. Even with rain and a dirt road, our cyclist puts yet another 184 km behind him. Tonight he'll sleep in a small convenience store room. There are only two more nights to go.


Saturday, 27 July (Day 33)

It's Andre's last day in Ontario before making it to Quebec. Although a few intimidating clouds are peeking in the horizon along with some light head winds, the 22 degree Celsius makes it ideal cycling condition. Andre feels great and pedals happily for 267 km, making it to Arnprior, Ontario - roughly 60 km West of Ottawa.


Sunday, 28 July (Day 34)

Andre awakes overwhelmed by encouragement. The finish line is near. He crosses over to Quebec at 10:30 A.M. and takes on his last lap heading home via route 148. Andre had wanted to make it home for 5:00 P.M. but head winds delay him. He's happily surprised when his children greet him at St-Eustache and remove the bags from his bike. Finally, after a full 278 km, an eager crowd of family and friends greet our hero on Morgan Street in Montreal. It's now 7:45 P.M. and he's made it home - way to go Andre!